APOLLO Wireless Pad
$49.95
Up to 15W high-speed charging on contact
Works with iPhone, AirPods (2nd Gen), AirPods Pro, and Android devices
Anti-slip surface made from recycled silicone
Compatible with most phone cases up to 3mm
Easy magnetic alignment with iPhone 12/13 series
Need a wall charger? Meet our APOLLO Wireless Bundle
1
Up to 15W high-speed charging on contact
Works with iPhone, AirPods (2nd Gen), AirPods Pro, and Android devices
Anti-slip surface made from recycled silicone
Compatible with most phone cases up to 3mm
Easy magnetic alignment with iPhone 12/13 series
Need a wall charger? Meet our APOLLO Wireless Bundle
Tech Specs
Dimensions: 3.78" x 3.78" x 0.25"

Weight: 5.9 oz / 0.37 lbs / 169 g

Input: USB-C PD (5V/2A, 9V/1.67A, 12V/1.67A)

Output: Wireless: 5W, 7.5W, 10W, 15W (max)

Compatible with: Apple iPhone 8, X / Xs / Xs Max / XR, 11 / 11 Pro / 11 Pro Max / SE, 12 / 12 Pro / 12 Mini / 12 Pro Max, 13 / 13 Pro / 13 Mini / 13 Pro Max / 14 / 14 Plus / 14 Pro / 14 Pro Max, 15 / 15 Plus / 15 Pro / 15 Pro Max, Samsung Galaxy / Note Series, Google Pixel Series, Other Wireless-Enabled Android Smartphones, & Qi-Enabled Wireless Charging Devices such as AirPods (2nd Gen)

Includes: 2M USB-C cable (BPA & PVC free)

Not Included: 20W Wall Charger (Included in APOLLO Wireless Bundle)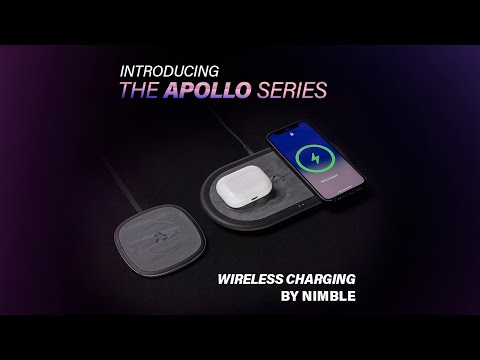 High-Speed Charging
Supports up to 15W of wireless power for a faster, more reliable charging experience.

Easy Magnetic Alignment
Includes embedded magnets for hassle-free placement with iPhone 12 models.

Ultra-Thin Design
By creating the thinnest wireless pad possible, less resources are consumed, and fewer emissions generated through production and shipping.
REPLAY ™ Certified Recycled Materials
Made with post-consumer plastic, silicone and alloy to further reduce total footprint by -8.76 lbs of CO2 compared to available wireless charger alternatives.
No Two Are the Same 
Thanks to the use of recycled silicone in our custom manufacturing process, the surface pattern of each and every APOLLO is unique.

One-for-One Tech Recovery Project™
Every product includes a recycled plastic bag so you can responsibly recycle your old tech for free, helping close the loop on electronic waste.
2-Year Warranty
All Nimble products are built to last for years to come, and protected by our 24 month guarantee.

APOLLO Wireless Pad
has a rating of
4.4
stars based on
114
reviews.